The Retiring Room was a room where the Master and his guests retired after a meal. Only men were permitted to enter the Retiring Room.
Description
The Retiring Room was a large room with a fireplace. It had an oval table of polished rosewood with matching chairs, and green leather armchairs. The walls were covered in portraits. There was a large oak wardrobe in the corner of the room where the Master hung his robes. There were two doors to access the Retiring Room: one from the Hall and one from the corridor which led between the Library and the Common Room.[1]
History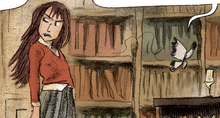 Lyra Silvertongue sneaked into the Retiring Room one evening and saw the Master of Jordan College poisoning a carafe of 1898 Tokay which was destined to Lord Asriel. She warned Asriel, who proceeded to knock over the decanter[1] and went on to give a presentation about Dust in which he managed to raise funding for his next expedition to the north.[2]
Appearances
Notes and references