Pantalaimon
Talk

0
324pages on
this wiki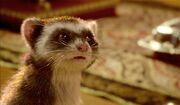 Pantalaimon was Lyra Silvertongue's dæmon. Nicknamed Pan, he entered the story in the form of a moth for, like all daemons of children, he could change form. When Lyra's friend Will Parry touched Pan, he "settled" in the form of a pine marten. Pan and Lyra were briefly separated when Will and Lyra entered the world of the dead, causing extreme pain to both Pan and Lyra. Pan avoided Lyra for a while afterwards; but because of the separation, he and Lyra gained the ability to travel far distances from each other, a trait shared only by Shamans and Witches.
Personality
Edit
In many ways, Pantalaimon was the polar opposite of Lyra, despite his being her soul. His wariness and supposed cowardice counteracted Lyra's rashness and lack of restraint. He acknowledged this difference between himself and Lyra; when in Northern Lights Lyra called him a coward, he flatly replied "Certainly I am." He was also very loving and close to Lyra, and he generally tried to protect her by keeping her from danger entirely. When he worried that something was wrong (such as when they found Tony Makarios, the boy whose dæmon was cut away), he was known for trying in vain to push Lyra away from it, often begging and pleading her to not go forward. Generally, however, she continued. This doesn't mean she ignored his opinions; she often looked to him as an emotional guide.
From the point that Mrs. Coulter's dæmon grabbed him and started to hurt him so that Lyra would obey Mrs. Coulter, Pantalaimon displayed intense hatred of the golden monkey in a similar way to Lyra's animosity for her mother. He displayed his own bravery when he declared with great conviction that he would fight next time, and the monkey wouldn't win.
Abandoned
Edit
After Lyra left Pantalaimon on the jetty at the edge of the Suburbs of the Dead, he was separated from her (though not in the same way as if they had experienced intercision). He spent time with Will Parry's newly physical dæmon, Kirjava exploring the different worlds and universes, entering many windows. After the two daemons were saved from death at the hands of spectres, Lyra and Will accidentally grabbed each other's daemons before escaping into the world of the Mulefa. Eventually, as directed by Serafina Pekkala, Pan and the newly named Kirjava returned to their humans. After explaining the problem of Dust leaving the worlds, and revealing that Will and Lyra will forever have to separate, the two no-longer-children lay together with their daemons. At this point, a strange thing happened: they touched each other's daemons. Unlike the usual sensation of intrusion and horror that grips those whose daemon is touched by another person, the two felt intense exhilaration and joy. This touch led both dæmons to settle, Kirjava as a cat and Pantalaimon as a rich, strong pine marten.
Pantalaimon first appeared as a moth. Most commonly, he took the form of a wildcat, an ermine/stoat, or a mouse. His ermine form was his favourite form while sleeping, and the colour of his fur depended on his mood.
As a wildcat, he was described as appearing "lean, rugged, and harsh."
He often became a mouse when he was shy or scared, and would often go into Lyra's pocket in this form. When he took the form of a bird, he was generally noted as becoming a goldfinch, an eagle, or an owl. At one point in The Subtle Knife, he took the form of a leopard to intimidate the children in the world of Cittàgazze.
When Will first saw him, he was a stoat and became an angry black rat with red eyes. He also took form as a sparrow, a lion, a hare, a salamander, a bear, a wolverine, a fish, a squirrel, a pig, a beautiful butterfly[1], a dragonfly, a lemur, a monkey, a swallow, a hedgehog when he doesn't want Lyra to sleep, and even a lion and a porcupine while fighting the golden monkey, and many more. As shown in "Nothern Lights", he always liked to try new forms due to his environment, trying out an arctic fox at the Gyptian camp. 
While fighting, he could change extremly fast and used many different animals' weapons. He also took some forms to protect Lyra or give her confidence. For an example, as she was guided onto the stage in the Gypters' Hall and all the attention turned towards her, he eventually became a black panther, and made himself "big", or as the dead scholar's ghosts showed up in Lyra's bedroom back in Jordan after she and Roger changed the "dæmon coins" in their skulls, he became a lion. 
When Lyra and her friends first planned to fight the gyptian children, he became a dragon the size of a big dog. This was the only time he was seen taking the form of a mythical creature. 
He usually took forms for practical reasons, for an example, he always became a bat or an owl when Lyra needed him to "see for her", a mouse to slip through small gaps, or a firefly to produce light for Lyra to see (as seen in the dungeon of Iofur Raknison's palace). 
When he must not be discovered in Will's world, he took the form of a wasp.
When he was abandoned, he was described as being a young puppy that was so heartbroken and crushed that he seemed more a manifestation of sadness than a creature. He was a bird in the mulefa's world, singing an otherworldly tune.
Eventually, he settled as a pine marten. In this form he had red-gold fur, and was described as lustrous, sinewy, and lean. This form came to Lyra in a dream; when she saw it, she instantly loved it.
"Pantalaimon was now an animal whose name he couldn't find: like a large and powerful ferret, red-gold in colour, lithe and sinuous and full of grace.[...]
'A marten', [Will] said, finding the name for Pantalaimon, 'a pine-marten.'
'Pan', Lyra said as he flowed on to her lap, 'you're not going to change a lot anymore, are you?'
'No,' he said.
'It's funny', she said, 'you remember when we were younger and I didn't want you to stop changing at all...Well, I wouldn't mind so much now. Not if you stay like this.'[...]
Knowing exactly what he was doing and exactly what it would mean, he moved his hand from Lyra's wrist and stroked the red-golden fur of her dæmon.[...]
And she knew too that neither daemon would change now, having felt a lover's hand on them. These were their shapes for life: they would want no other."
—Pantalaimon and Kirjava settle
Behind the Scenes
Edit
Pantalaimon's name comes from Saint Panteleimon or Pantaleon (Greek: Παντελεήμων [Panteleímon], "all-compassionate"; [Pantaleon], "in all things like a lion"), counted in the West among the late-medieval Fourteen Holy Helpers and in the East as one of the Holy Unmercenary Healers, was a martyr of Nicomedia in Bithynia during the Diocletian persecution of 303 AD. Though there is evidence to suggest that a martyr named Pantaleon existed, the various stories told of his life and death are considered by some to be purely legendary.
References
Edit
↑ The Subtle Knife excerpt TeenReads: Chapter One: The Cat and the Hornbeam Trees: Her dæmon had changed again, and become a huge, brightly coloured butterfly, which fluttered into the fridge briefly and out again at once to settle on her shoulder. The butterfly raised and lowered his wings slowly.