Marisa Coulter's flat was in a grand mansion block on the north bank of the Thames in London.[1] Lyra Silvertongue lived here for around six weeks, before she ran away.[2]
Description
The flat had large, south facing windows, meaning that it was filled with light. The decoration was very pretty, with white and gold striped wallpaper, leafy green carpet, and ornaments on the surfaces.[1]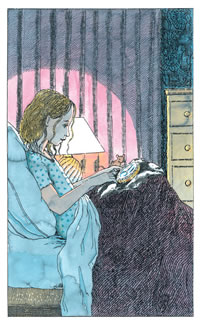 Lyra's bedroom was cosy, with cupboards, a dressing table, a chest-of-drawers and a wardrobe. Her bed was much softer than the one she had at Jordan College.[1]
Appearances
Notes and references
↑ 1.0 1.1 1.2 Northern Lights, chapter 4
↑ Northern Lights, chapter 5
Ad blocker interference detected!
Wikia is a free-to-use site that makes money from advertising. We have a modified experience for viewers using ad blockers

Wikia is not accessible if you've made further modifications. Remove the custom ad blocker rule(s) and the page will load as expected.