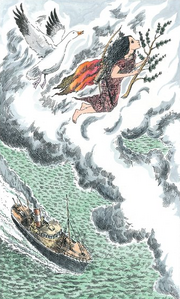 Cloud pine is a type of tree with magical properties. Witches use branches of cloud pine to fly, and are the only ones known to be able to do so.[1]
History
When Lyra Silvertongue met Martin Lanselius, the consul of the witches, he asked her to use the alethiometer to identify which of the cloud pine branches which he possessed belonged to Serafina Pekkala.[1]
Appearances
References
Ad blocker interference detected!
Wikia is a free-to-use site that makes money from advertising. We have a modified experience for viewers using ad blockers

Wikia is not accessible if you've made further modifications. Remove the custom ad blocker rule(s) and the page will load as expected.